Archive for April, 2008
April 17th, 2008
Animedia song booklet
I scanned the animedia song booklet as requested by fantasy2004. The booklet has 30 some song lyrics and sheet music for the op/ed of various animes playing this season.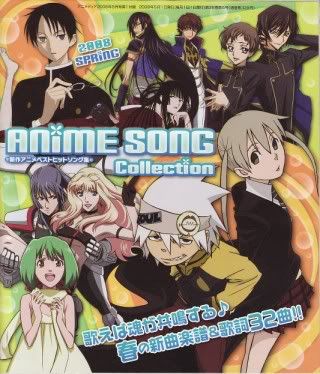 == download the song booklet ==
[EDIT] As someone pointed out, I somehow didn't include the Soul Eater lyrics and sheet music.  I'll scan those 2 pages this weekend and put them up.  4/23/08
Code Geass Booklet
There was also a cute book in book featuring code geass guys and horoscopes from prince animage vol. 2 (obviously a magazine for girls). I just had to scan it to share with the other fangirls >:D
Sample pages
The horoscopes are awfully adorable~ The downloadable booklet is about 1200×1600 resolution, so you should be able to read everything comfortably =D
Tags: scans

April 16th, 2008
I scanned Kobato Drop 6.5 from the May Newtype.
I got my Code Geass illustrations today. I'll be doing a review on it later. Overall, I'm very satisfied with the purchase. My Gundam00 World Report also came, but I was disappointed with it :/ Yeah, there are lots of information, but I can't read it ;_; No new illustrations or pretty spreads.
Anyway, I scanned lots of stuff from this month's animage, newtype, and animedia. I'll post those later too. Next on my list of things to scan is the animedia for girls and prince animage.
+ updated gallery with the may scans. Forgot to upload some, but they'll be there soon :3
April 6th, 2008
Updated gallery with lots of new magazine scans from the april animage, animedia, and newtype, including nabari no ou, gundam00, and lots of others.  Please don't hotlink the images, but feel free to link back here :D